Customer-friendly cancellation conditions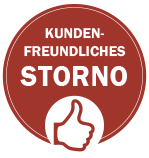 We offer you a CUSTOMER-FRIENDLY CANCELLATION up to 17 days before arrival for your trips from January 2022.
We only keep € 35,- per person of your deposit as a handling fee. The refund will be made within 21 days at the latest after you have given us your bank details.
Thereafter:
16 to 4 days before departure 30 %.
3 days before departure (no show) 45 %.